Jeff Barnhart, piano/vocals
Tom "Spats" Langham, banjo/guitar/vocals
Anne Barnhart, flute/vocals
Big G - Graham Smith, drums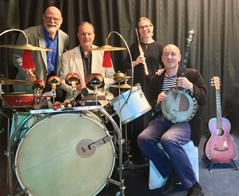 Sweet&Hot Quartet
The Sweet&Hot Quartet teams up US jazz couple Jeff and Anne Barnhart (piano, flute and vocals) with the UK's favorite strumming troubadour, Tom "Spats" Langham on banjo, guitar and vocals along with Graham Smith, the swingin'est drummer in the land! They've played many of the best jazz clubs throughout the land, garnering stunning response. The Stafford Jazz Club review celebrated that "The room was packed and the audience highly appreciative: this is the only group we have had who got a standing ovation at the end of the first set." The promoter from the Kingsbridge Jazz Club avowed: "There are just insufficient superlatives to describe this formidable quartet" and we know you'll feel the same when you see them. Not to be missed.
THE SWEET&HOT QUARTET "Play It - Sweet & Hot!"
Here is the first recording by a marvellous quartet of supremely talented musicians who need no introduction from me - Jeff Barnhart (piano & vocals); Anne Barnhart (flute & vocals); Tom "Spats" Langham (banjo, guitar & vocals) and Graham Smith (traps and washboard). They play an astonishingly wide range of musical styles - ragtime to swing, blues to bounce, and show tunes to ballads and jazz standards - all with great panache and enthusiasm. You certainly can't pigeon-hole this band! The CD was recorded over two days in May 2017 (not live sessions) and the tunes are:- Everybody Loves My Baby; On Green Dolphin Street; Careless Love Blues; Red Rose Rag; Sweet Sue - Just You; Pine Apple Rag; If It Ain't Love; San Francisco Bay Blues; The Glory Of Love; Water From An Ancient Well; Some Of These Days; I Surrender Dear; Creole Belles; A Hundred Years From Today; Kansas City Rag; Blue Autumn; The Best Things In Life Are Free. (74min)
Great album!
CD AVAILABLE FROM p.e.k. Sound